Dads of Great Students
Meet the Kenowa Hills Watch D.O.G.S. (Dads of Great Students)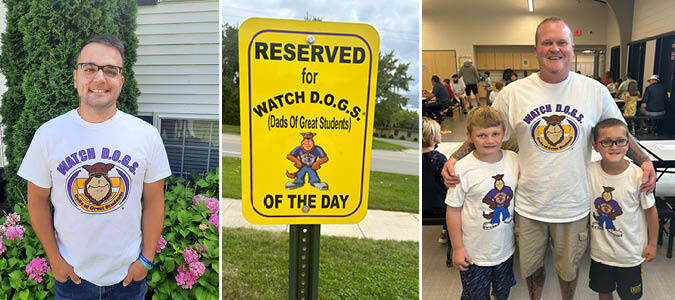 November 6, 2023
Zinser Elementary School Recognized for Outstanding Dedication to Watch D.O.G.S. Program
[GRAND RAPIDS, MI] – Kenowa Hills Zinser Elementary is proud to announce its recent recognition by the Watch D.O.G.S. program for its unwavering commitment to fostering positive male role models within the school community. This recognition comes after nearly a decade of dedicated participation in the program, which began in September 2012 when a passionate Zinser dad, Josh Paskewicz, approached the school's principal, Principal Ross Willick, with the idea of bringing this national initiative to their beloved school. Zinser is one of four schools across the country to receive this recent recognition, which is being commemorated by a banner sent from the Watch D.O.G.S. program administrators in Austin, TX.
The Watch D.O.G.S. (Dads of Great Students) program encourages fathers and male role models to actively engage in their children's education by volunteering their time within the school environment. Since its inception at Zinser Elementary, the program has experienced tremendous success and growth, thanks to the ongoing support of both the school's leadership and the dedicated parent volunteers.
Principal Willick, reflecting on the program's impact on students, shared, "Zinser Elementary has utilized the Watch D.O.G.S. program since the fall of 2012. A dad met with me about bringing the program to our school, and it was a 'no-brainer' decision, and we continue to support our partnership. Since 2012, we have had hundreds of male volunteers bless our school by supporting our students and staff."
Despite the challenges posed by the COVID-19 pandemic, Zinser Elementary remained steadfast in its commitment to the Watch D.O.G.S. program. Willick emphasized, "With the exception of the pandemic, we've had a fall kick-off every year to encourage the fathers or male role models to 'sign up and show up' at our school to support our students. We've also run other events to build excitement or raise money for our school like serving french fries at the Festival. We now have a parking spot dedicated to our Watch DOG of the day!"
One remarkable testament to the program's impact is Mark Racalla, the current "Top Dog" at Zinser. Racalla, who graduated from the school himself and holds a B.S. in human biology from Michigan State University, has personally seen the profound influence a father figure can have on a child's development. He stated, "In my studies and profession, I have seen first-hand the impact a father figure has on a child. Simply put, being there matters, and is the foundation of our Watch D.O.G.S. program."
Mark became a Watch Dog in 2019 when his oldest daughter Madison started kindergarten. Despite facing a heartbreaking loss when Madison passed away from leukemia in October 2021, Mark continued his involvement with his youngest daughter, Leah, who started kindergarten the following year. Mark shared his heartfelt commitment, saying, "I do my best to be approachable, engaging, and encouraging. I want to make a point to my daughter and her classmates to simply be there. I can only hope any and all father figures of Zinser students are willing to share in a Watch D.O.G.S. experience. It is a small gesture with a tremendous impact."
Zinser Elementary School is honored to receive this recognition from the Watch D.O.G.S. program and remains committed to fostering a supportive and nurturing environment for its students. The dedication of Principal Willick, Mark Racalla, and all the volunteers involved in the program is a testament to the positive influence of male role models in the educational journey of Zinser's students.
For more information about Zinser Elementary School and its involvement in the Watch D.O.G.S. program, please contact Zinser Elementary.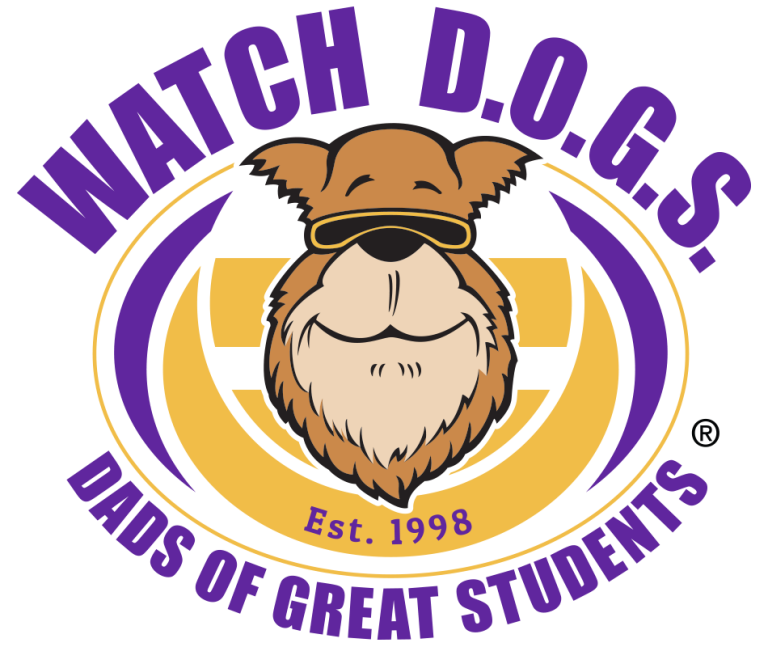 Contact your student's building administrator to get involved!